Ceramic Coatings vs. Paint Protection Film (PPF)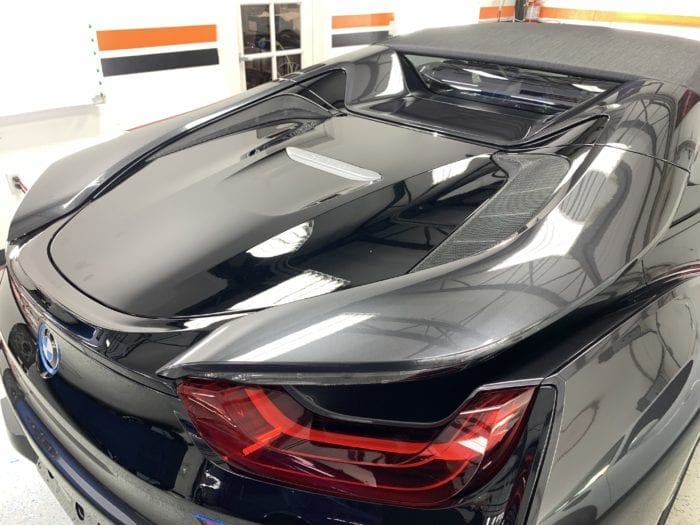 So… it's become a long-debated question in our industry, which will protect my vehicle better…Ceramic Coatings or Paint Protection Film (PPF). The short answer is both. Let's breakdown each and see which one maybe better or is both the recommended best option.
Ceramic Coatings:
When we refer to a Ceramic Coating, this is a chemical product that will seal your vehicles exterior paint, glass, trim, and most surfaces. The early coatings were created around the mid-2000's and have evolved rapidly and improve almost yearly. It has a specific chemical composition that when applied, will bond to that specific surface, harden and shine like no other. Installation technique is crucial for the absolute best finish results.
What's left behind is a hard-ceramic layer that will give you protection against all the elements, certain scratching, marring, etching, acid rain, and even those pesky bird bombs. Think of it this way, this a harden clear coat for the factory clear coat. A wax on steroids.
Most coatings also will have some type of water sheeting properties or extreme water beading (hydrophobic) that will aid in releasing the water from the vehicle when washed or rained on. Careful when choosing your product for your vehicle, there are consumer grade to pro-only installed coatings and tons of brands. There are many differences in all categories, but that will be discussed in another blog post…
How does this help the vehicle owner…Washing and maintaining the vehicle is way easier and faster, it will protect all the exterior surfaces from damage, and overall gives your vehicle amazing gloss, shine and depth for years to come not just months!
Paint Protection Film (PPF):
Paint Protection Film or PPF or Clear Bra, whichever terminology you have heard about it with, is a clear plastic film/sheet that is about 8-10mils thick. The proper name, paint protection film, has been around since the 70's and like the ceramic coatings, have evolved rapidly and have quite a few big-name brands that are still going strong. 3M may come to mind as they were one of the very first to market and have this particular product in the automotive field. As the films have evolved, so has the quality control and the specific pros and cons of each brand. Installation technique is crucial for the absolute best finish results.
Most films will have the same general property in which you are searching for; thick, clear, and have a warranty that backs it. These films can go on pretty much any paint and trim surface with some exceptions and limitations. The primary goal of PPF is to protect your paint from rock chips, stone debris, light impacts, and or scratches and marring. In the most recent years, film has now been coming with other great aspects, anti-yellowing, hydrophobic and some have extreme gloss top layers.
Yes, you can protect and entire vehicles paint surface with PPF, but most commonly it used on high- impact areas that will be damaged the most from the road debris and stones.
Both Installed Together:
When searching for the absolute best protection for your vehicle, installing both (Ceramic Coatings and PPF) will give you just that. It is a must that the vehicle be washed and prepped correctly before installing either of these products. WINNER: Both products installed at the same time!!
Reflected Images is an industry leader in ceramic coating and PPF installations for the past 10 years. We offer many choices and packages to our clients. We have hand-picked the very best products through years of research and results. We pass this info and knowledge on to our clients and their automobiles. Call or email us today for all the answers to your questions.