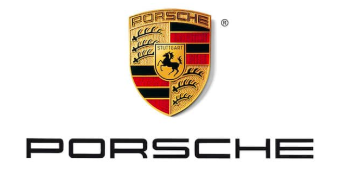 RI Porsche Exclusive Package
#theRIexperience
Welcome to the RI Porsche Experience! Be completely blown away with this bespoke treatment designed exclusively by RI for our Porsche Clients. Any and all production models, ranging from the early 356's to highly desirable 964 Turbos, to the modern track monster GT2RS, are part of this exclusive category. RI works with most local Porsche Dealerships and has close relations with a few. We offer full white glove treatment from dealer to our facility. We offer transportation services of your Porsche. Come see why we are the recommended Porsche destination for car care and protection.
There are no exclusions, however strict consultations are required before any appointments and procedure parameters are set. This treatment is a multi-day procedure, so please know, it will be completed in a timely manner, but may take longer than expected as well. Once an inquiry is made, a one hour consultation will be required to let Reflected Images get connected with that particular Porsche and owner. Based upon findings and conclusions, there will be a restoration procedure decided on with pricing. As well as a time frame, the appointment will be set.
Once your Porsche arrives here, the owner and vehicle will be instantly welcomed and will have priority. There are always other vehicles in shop at any given time, but Porsches will have strict concierge service throughout the entire process. All work and inspections are documented through written records and DSLR quality pictures.
Most Porsche models will utilize a multi-step procedure consisting of full prep and ceramic coating. Extras, like PPF and Ceramic Window film will also be decided on before the appointment date. The multi-step procedure includes full exterior paint restoration, wheels removed, to full interior restoration.
The RI Experience Procedure…
Full pre-inspection prior to any work being performed

Complete Decon prep bath with IronX treatment

Complete exterior clay treatment (paint, glass, trim, lights, wheels)

Paint levels are metered and measured to ensure safety

Vital body areas and glass are masked and taped to ensure there is no impact from paint correction steps

Full Paint restoration is performed, usually consisting of 2-3 steps

Full Paint polishing and jeweling is performed, usually consisting of 2-3 steps

Paint coating primer is applied to ensure proper coating bonding and durability

PPF (if applicable) will be applied at this time

Ceramic Finest Reserve will be applied in 3 thick layers to all exterior surfaces, bonding and curing properly between coats (all hand applied and worked)

Ceramic is IR cured to 150° F per panel

Wheels are removed from Porsche and will be worked and restored to appropriate levels, then coated with Ceramic

Caliper, suspension and brake components will be treated, Ceramic, and cured

Interior areas are completely prepped and then cleaned with proper methods to ensure safety.

All interior surfaces (cockpit, leather, fabric, instrumentation area, alcantara, plastics) are treated with a selected coating medium

Interior glass is washed and cleaned, tinted glass will be delicately handled

Motor bay area is washed, cleaned and treated accordingly

All door, trunk, motor bay jamb areas are cleaned and coated

All work is documented through pictures
Come see what makes this experience difference and why it's an asset to your Porsche. Call or email today for your consultation.
---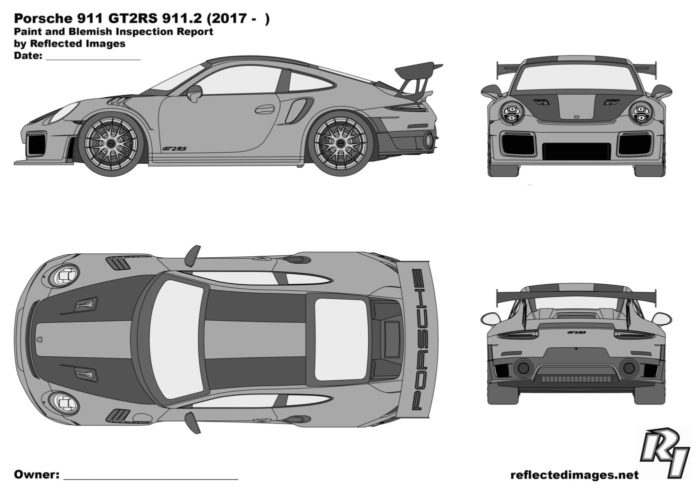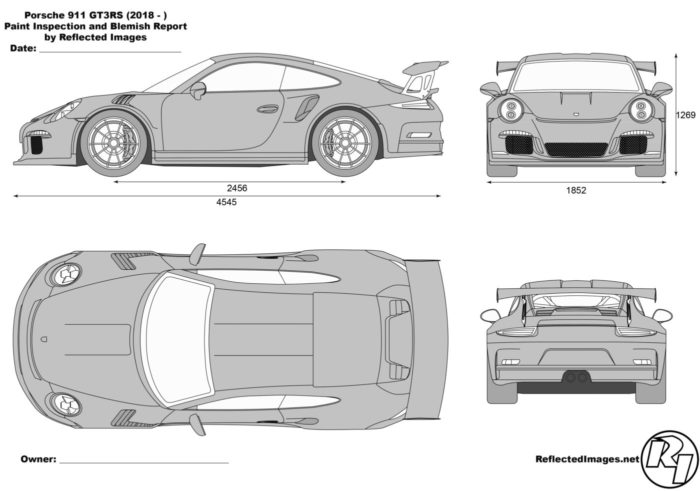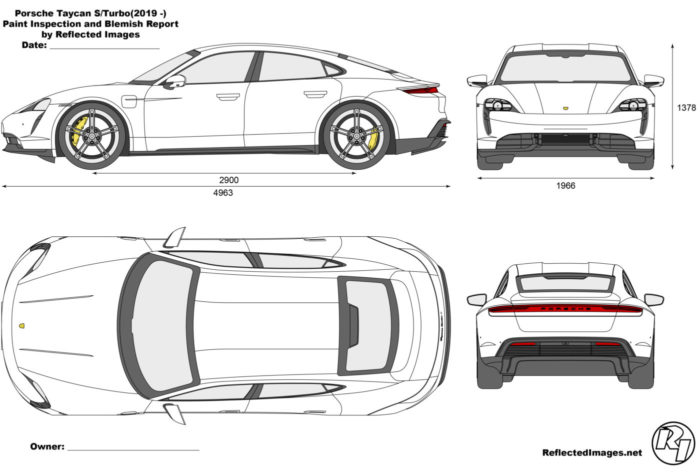 All our Porsches start with a full pre-inspection and each will have its own blueprint (as shown above) with the proper paint measurements, factory blemishes, and or marks and problem areas that will be addressed throughout the process.
---
We invite you to take a moment to browse our project portfolio to get a better sense of the premium craftsmanship and attention to detail that will be provided to your vehicle when you visit our state-of-the-art detail shop. If you have any questions or if you would like to discuss your automotive needs, please don't hesitate to contact our team today.
---
Notice of Non-Affiliation and Disclaimer
We are not affiliated, associated, authorized, endorsed by, or in any way officially connected with the Porsche Brand, Porsche Racing, and/or Porsche USA, or any of its subsidiaries or its affiliates. The official Porsche website can be found at http://www.Porsche.com/usa.
The names Porsche, Porsche Experience, and or Porsche USA as well as related names, marks, emblems and images are registered trademarks of their respective owners.
Have Questions?
We invite you to reach out to our team if you have any questions regarding our state-of-the-art detail shop or the premium services we provide.